Knowing Cotton Otherwise
Katoen is misschien wel de bekendste stof ter wereld, met een ingewikkelde, wereldomvattende, geschiedenis die meer dan 400 jaar geleden begon. Vele verhalen achter katoen zijn minder bekend. Deze onvertelde, soms onverwachte perspectieven zijn verzameld en samengebracht in Knowing Cotton Otherwise, de nieuwe tentoonstelling van het Fashion for Good Museum.
Ontdek de onbekende verhalen van katoen
Knowing Cotton Otherwise bevindt zich op het snijvlak van mode, kunst en sociale verandering. Onder de creatieve leiding van mode- en cultuuractiviste en journaliste Janice Deul werd de tentoonstelling in eerste instantie samengesteld door Musoke Nalwoga, Alyxandra Westwood en Sophie van Duren, met een tentoonstellingsontwerp van kunstenaar Sophie Douala. Lees hier meer over het Team van Curatoren.
De tentoonstelling belicht de relatie tussen katoen en de mode-industrie, de rol van katoen in een steeds nauwer verweven web van wereldwijde culturen en de duurzame innovaties die de circulaire transformatie van katoen aandrijven.
Op basis van collectiviteit en gemeenschap zijn lokale kunstenaars uitgenodigd om werk te presenteren. Hun werk verbindt en overstijgt verschillende thema's die betrekking hebben op het verhaal van katoen en zijn impact op mensen en de planeet. Daarbij wordt een ervaring gecreëerd die zowel de geest als de zintuigen stimuleert.
Hoe voelt en klinkt het als een kledingstuk in indigo verf wordt ondergedompeld? En is de veranderlijke aard van water niet de ultieme afspiegeling van de bewogen geschiedenis van katoen en de mensenlevens die katoen door de eeuwen heen heeft beïnvloed?
Knowing Cotton Otherwise wordt gepresenteerd in verschillende hoofdstukken waarbij de tentoonstelling in de loop van het jaar groeit en ontwikkelt.
In het eerste hoofdstuk was werk van kunstenaars Benoît Gilles Michel, Caithlin Courtney Chong, Mario Gonsalves, Niño Divino, Noah Cohen, Nsimba Valene en Tasio Bidegain te zien, evenals van de collectieven OSSO Archive, Studio Papa en The Gang is Beautiful. Verschillende kunstenaars hebben in hun installaties gebruik gemaakt van innovatieve oplossingen die zich bevinden binnen de uitdagende aspecten van de katoenproductie. Zo zoeken innovators Oritain en Officina+39 naar oplossingen binnen de aspecten: herkomst en traceerbaarheid, verven en watergebruik.
Het tweede hoofdstuk van de tentoonstelling, Bodies of Work, verkent complexe kwesties in verband met het gebruik en hergebruik van katoen in mode en technologie. In dit nieuwe hoofdstuk wordt de ervaring van menselijke lichamen die verstrikt zijn in (dwang)arbeid onderstreept, via de toevoeging van werken van Sha'Mira Covington en Tricia Nganga Mokosi.
Het derde en laatste hoofdstuk, Flipping the Script, bevraagt het Eurocentrische verhaal rond concepten als 'klassieke' stijl of 'basic items' en geeft daarbij ruimte aan stemmen die historisch gezien aan de zijlijn zijn gezet. Er zijn twee nieuwe installaties toegevoegd aan de tentoonstelling van ontwerper Angelo Carlo Marcus Elizabeth en trendonderzoeker en ontwerper Nsimba Valene Lontanga.
Door vormgeving en verhalen te vermengen, ontstaat in Knowing Cotton Otherwise een veelzijdige ervaring, waarbij bezoekers uitgenodigd worden om katoen anders te verkennen en te ontdekken. Het is een ruimte waar bezoekers worden uitgedaagd de inhoud te bevragen, hun eigen ideeën te onderzoeken en samen een proces van zelfreflectie en kritische beschouwing aan te gaan.
Waar komt katoen vandaan? Hoe wordt het verbouwd? Wat is de toekomst van katoen en de rol van innovatie? Hoe moeten we ons verhouden tot de meer problematische aspecten van katoen, van de geschiedenis van gedwongen migratie tot de meer hedendaagse uitdagingen? En hoe kunnen we de connecties die katoen creëert en de mogelijkheden eromheen vieren?
De tentoonstelling nodigt uit tot dialoog, spelenderwijs leren en verwondering, in een omgeving die aanzet tot samenkomen, uitwisseling en verbinding. De combinatie van kunst, design en wetenschap creëert een kleurrijke en interactieve ruimte die bezoekers in staat stelt te reflecteren op hun ervaring. Ook biedt de tentoonstelling publieks- en educatieve programma's waar bezoekers verder in deze onderwerpen kunnen duiken.
Knowing Cotton Otherwise opende op 7 oktober 2022 haar deuren voor het publiek en zal een jaar lang te zien zijn in het Fashion for Good Museum aan het Rokin 102 in Amsterdam.
Maak kennis met de kunstenaars

Noah Cohen
Chapter 1
NIÑO DIVINO
Chapter 1, 2 & 3
Caithlin Chong
Chapter 1 & 2

Tasio & Benoît
Chapter 1, 2 & 3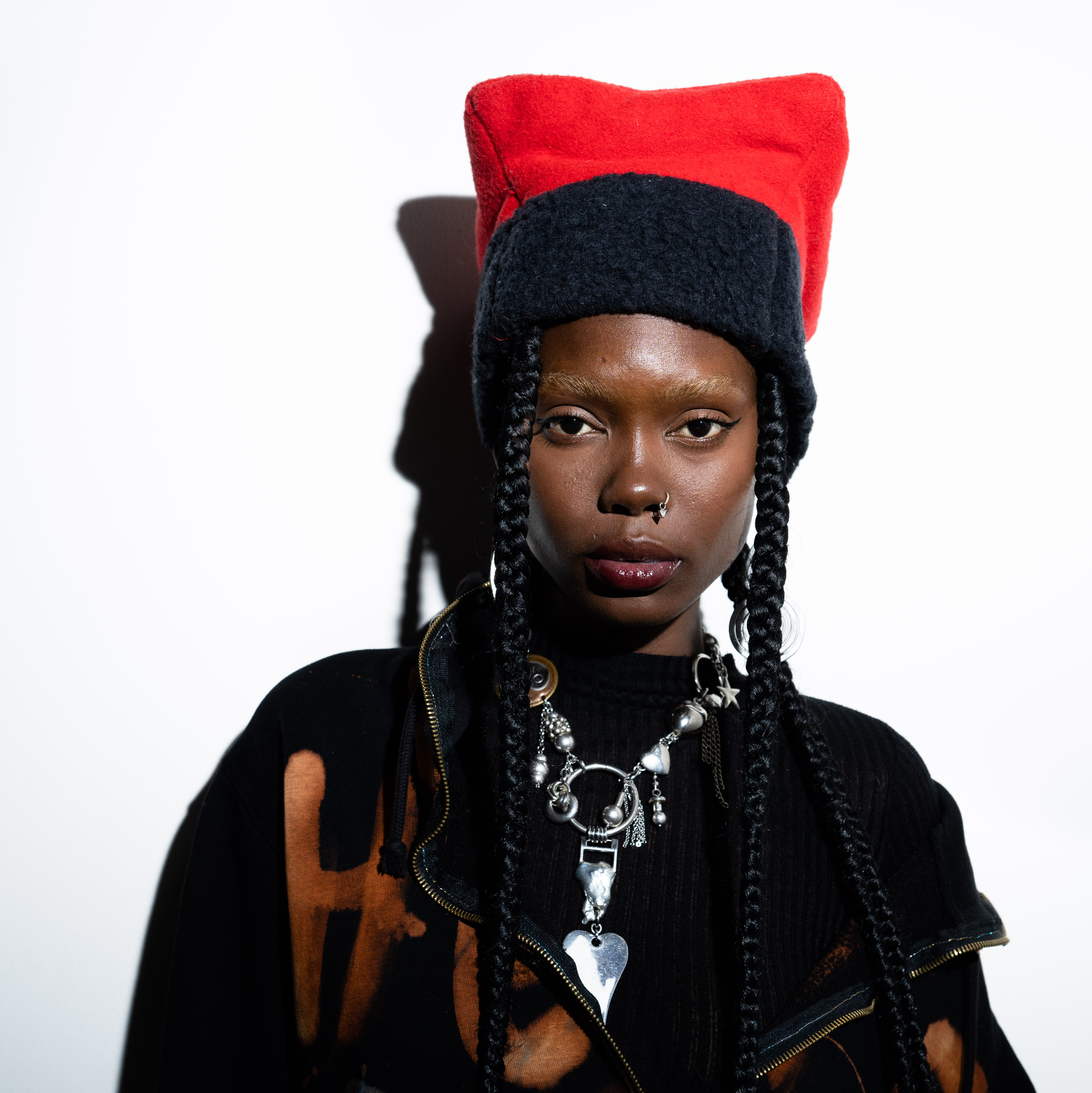 Tricia Nganga Mokosi
Chapter 2 & 3
Sha'mira Covington
Chapter 2 & 3
Angelo Carlo Marcus Elizabeth
Chapter 3
Nsimba Valene Lontanga
Chapter 3

JeanPaul Paula
Chapter 2 (pop-up exhibition)
Conversatie for Good
Hoofdstuk 1 | Met kunstenaars Caithlin Courtney Chong, Niño Divino en Noah Cohen
Hoofdstuk 2 | Met kunstenaar Sha'Mira Covington
Hoofdstuk 2 | Met kunstenaar Tricia Nganga Mokosi
Chapter 3 | With artist Angelo Carlo Marcus Elizabeth
Chapter 3 | With artist Nsimba Valene Lontanga
Chapter 2 | With artist JeanPaul Paula